Dear Neighbors,
On November 24th, raise a glass to celebrate the O.Henry Hotel and Green Valley Grill because that is their 25th birthday. Those who have enjoyed (endured?) these letters for the past 24 years know we write them in the spirit of a letter to a friend, sharing what we'd ramble on about if one of you asked, "What's happening?" You've only gotten one in the past three years, though: We didn't think you'd want to hear about our trials and tribulations during a good bit of that time. The one we did write was about romance (we're for it!) and (shameless plug to follow) how we've made both hotels even more romantic destinations with bedroom mood lighting and stereos that even play in the deliciously updated bathing rooms at the O.Henry, and other great stuff (read about it in our Early 2022 letter). We also have "romance advisors" and a feisty menu of package offerings, but I digress. (No surprise there.)
This anniversary brings up some fond memories that I can't resist sharing. Read on and you'll hear some of those, plus find out about some fun happenings on the horizon.
We are honored that you enjoy our places and that you choose to receive these letters. If you want us to stop mailing them, please email us at [email protected]. Or, if you'd like more frequent news, please sign up on any of our websites (listed on the back page), Facebook, Instagram, or Pinterest. BTW: We love feedback. If the spirit moves you, please share the good stuff on websites such as Google or TripAdvisor. If we goofed something up, we want to know right away. Please email us at
[email protected] or call (phone numbers below).
Cheers! Dennis Quaintance & Nancy King Quaintance
---
Celebrating Fraternal Twins at 25!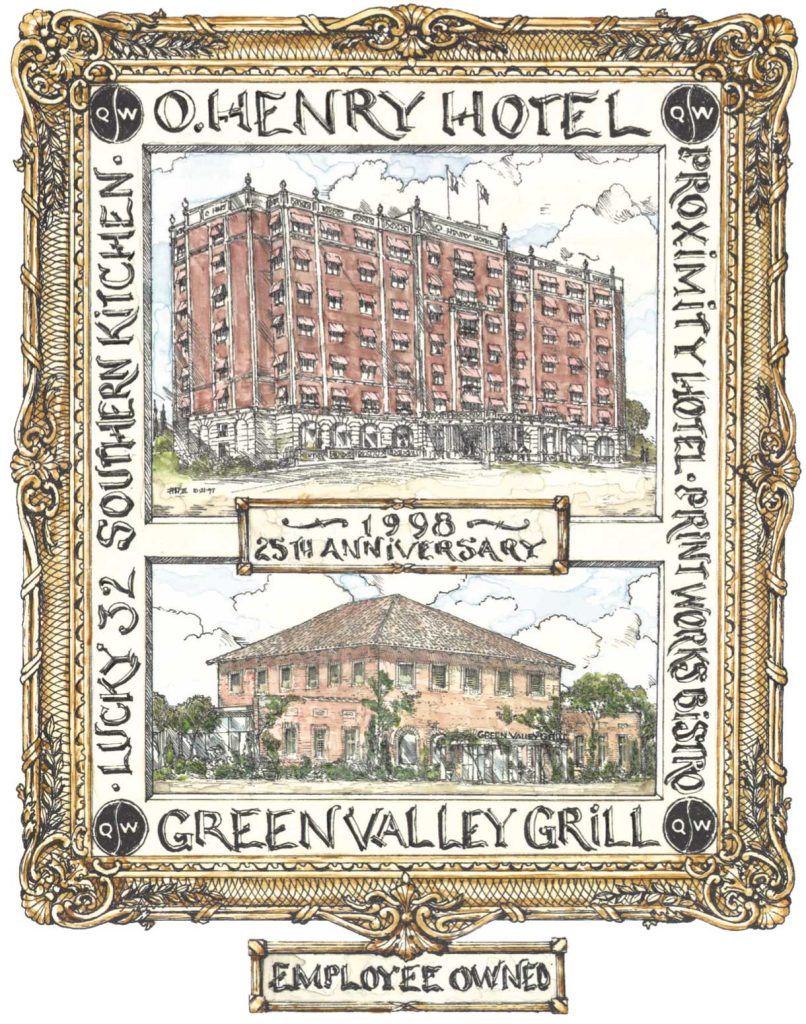 No…I'm not referring to the Weaver twins, Mike and Will, who fit that bill, or "new Dennis" and Kathleen Quaintance, who also qualify. (We really are partners!) (see some cute photos here) I'm talking about the other twins born that same year to the Greensboro community: The O.Henry Hotel and Green Valley Grill! Yes, 1998 was a busy year. The Weavers arrived in early January, the Quaintances in early August, and the QW twins in late November.
Given that Nancy and I both started working in restaurants and hotels when we were 15 years old — she at Disney in Florida and me at the Edgewater in Missoula, Montana — getting to start with a clean sheet of paper to design our dream hotel and restaurant was, well, a dream come true! The design and building processes were wonderful and unforgettable adventures, yet nothing compares to the incredible experience of getting to be a part of our colleagues' and guests' lives each day. The buildings, furnishings, and equipment in our places are but tools we employ as we endeavor to bring to life our intention of causing delight for our guests, colleagues, and partners. For us, there's not much that could be more fun than that. The experience of hundreds of wonderful people — our colleagues — joining us each day with these ideas at the fore is among the greatest honors in Nancy's and my lives. (FYI: Our colleagues are now our partners because in 2016 the ownership of QW was transferred to a trust that exists to provide retirement benefits for QW staff members.)
Now, some reflections…
Dreaming — In 1981, about a year prior to Nancy and me getting engaged, she was back in Greensboro on a break from Cornell's hotel school, and I was still working at Franklin's off Friendly. We went out for a motorcycle ride on my slick little BMW R65 and stopped at the light on Benjamin at Green Valley. I elbowed her and said, "Let's build our first hotel there," as I nodded toward where GVG and OH now stand. She said, "Deal!" I think of that at least once a week. It gives me goosebumps most every time. Be careful what you dream, you might end up living it!
Design —
In this section, when I say we, I mean Don Rives, QW's Right Reverend, the Minister of Design from 1989 till he left these earthly bounds too early in 2007; Chip Holton, QW Artist-in-Residence since the get-go and still; plus Nancy and me.
As always, we began with a fantasy vignette, then we developed it with playfulness and arguments like a group of enthusiastic eighth-graders might. (We believe that collaboration grounded on an agreed intention — including non-meanspirited, pur- pose-centered arguments with loads of laughing — brings optimal results. We let the intention be the boss. It's a democracy…at least until I vote.)
With GVG, we pretended that we had discovered a mid-1800s Tuscan-style building that had once housed a mill or a store. We used the Blandwood Mansion, the UNCG Power Plant, the little pump house in Lake Daniel, and a couple of other buildings as inspiration. We pretended that the second floor had been removed, so the lighting transformers were placed to give the impression that they were the mounting pockets for the long-gone beams. The flanking additions (the Copper Room and Bar) were designed to be sympathetic with the "historic" building. Trivia: Don used Andrea Palladio's circa 1570 The Four Books of Architecture as his guide to calculate the proportions. He worked them out mathematically using pencil and paper (he didn't go for calculators), then made tweaks to fit the dimensions of the brick we'd selected. When you visit you can notice that there are only whole or half bricks. Oh, how I wish I'd saved those papers. Don taught me many things (some that I can even talk about in polite company). One was, "Get the proportions and materials right, and you might have something that won't wear or ugly out." Love that!
The O.Henry was easier to imagine: We pretended that long after the building that would become GVG was built, a hotel would be constructed nestled in next to it. To help us, we sort of channeled Charles Hartmann, the architect for the 1923 Jefferson Standard Building and the 1919 O.Henry Hotel that stood here in Greensboro till the early 1970s. We let Hartmann hold right much sway with the exterior. We employed similar methods for the interiors. For the lobby, we were inspired by the honeyed pine room at the 1929 Hanes House in Winston-Salem, which is now part of the Southeastern Center for Contemporary Art (SECCA), and Don suggested Jacobean Revival sensibilities for the paneling and furnishings. It was only after we were happy with Chip's exterior paintings and interior sketches that we started putting lines on the architectural drawings.
Intention and Gratitude —
I'm the luckiest guy to get to have Mike Weaver in my life. (Sorry Mike, but I'm even luckier for waking up next to Nancy each day!) We'd been partners for eight years when I brought him the idea for adding a hotel with an adjacent restaurant to the QW family. He was for it. Mike, Nancy, and I observed that years ago communities had locally owned, passionately run hotels that were "in and of" the community. These old hotels were close to where people lived and worked, and even though they served the traveling public, they also served their neighbors. They were real centers of community life and a source of pride for the cities they were in. Then came the interstate highways and commercial aviation, along with some technical advances in hotel facility design, and poof, the community-centered hotels disappeared. In their place came national, corporate-owned, brand-name hotels primarily situated along the highways or near the airports. These hotels don't seem to fill the place that the old hotels filled in the hearts of their neighbors. They are in the city, but not "in and of" the community and neighborhoods. So, we decided, "Let's bring back the neighborhood, community-centered hotels of old," even though some experts said we were smoking dope!
Weaving Mike back into this: The O.Henry and Green Valley Grill, and the whole of QW, would not be what they are without him choosing to give his love and care to Greensboro and to QW. I can't think of QW for even one minute without feeling immense gratitude toward Mike.
Our hope is that the next 25 years are as joyful and energizing as the first quarter-century. And we promise that taking great care of you, our guests, and of course, our wonderful colleagues, will remain our top priority. Cheers!
---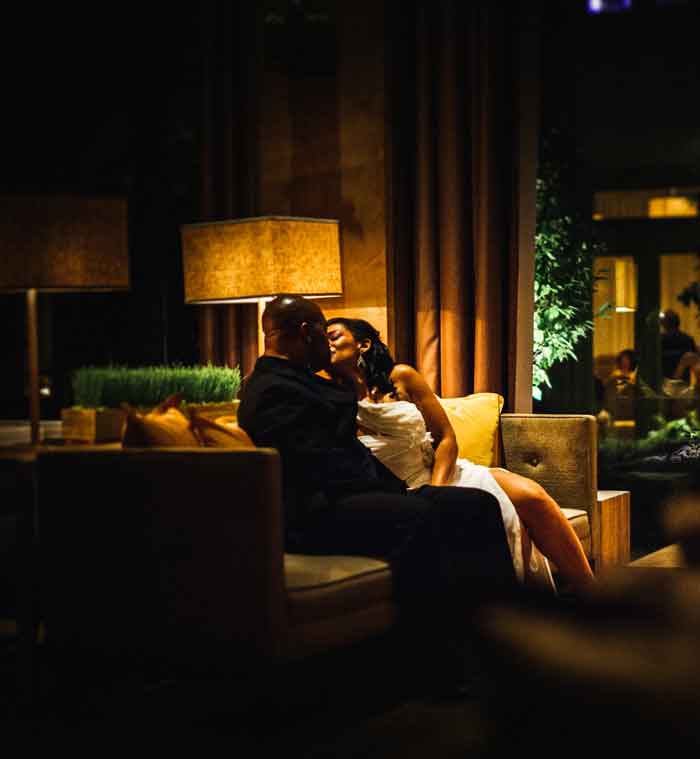 SAVE 25% ON ROMANCE!
We've got the mise en place for romance: Come see what you can cook up! Packages and offers have limited availability and rates vary.
Two Hearts, Two Nights Package
Wink, Wink Romance Package
Three Wishes Getaway
Spontaneous Romance
Endless Honeymoon
Anniversary Package
Sustainable Romance (Proximity Hotel)
Elegant Escape (O.Henry Hotel)
Dress for Dinner Rendezvous
Every Thursday from 6–9 PM, join us in the O.Henry's commodious Social Lobby for the Cocktails & Jazz series featuring O.Henry Trio members Dave Fox (piano), Neill Clegg (saxophone, clarinet, and flute), and Matt Kendrick (double bass), who are joined by guest vocalists who primarily cover The Great American Songbook and jazz classics. To see the full lineup of artists and read more about them, visit ohenryhotel.com.
Pop-up Special Performances: Nov. 17, O.Henry 25th Anniversary Show, 7–10 PM, with special artists Jacqui Otana (vocals), Ariel Pocock (piano), Evan Ringel (trombone), and Charlton Provatas (bass) | Dec. 24, Christmas Eve, 7–10 PM with artists Diana Tuffin (vocals), Matt Reid (piano), Matt Kendrick (bass), and Neil Clegg (sax) | Two Shows Dec. 31, New Year's Eve, early show, 6–9 PM, with Jessica Mashburn & the O.Henry Trio; late show, 10 PM–midnight with Diana Tuffin & Matt Reid Trio.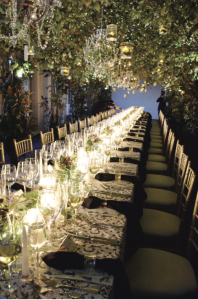 What's more fun than imagining how you'd like your guests to feel? That's where we start with our event design process, whether it is a rather routine meeting for eight or a sensational shindig for 500. We learn our guests' intentions by asking them, "What do you want your guests to say after the event?" Then, we collaborate using that vision as our compass. By focusing on the emotions and reactions that our guests want to create for their guests — before even digging into the nuts and bolts — we are able to make suggestions, harvest ideas, and create experiences that are beyond what might have been created without employing this method (without blowing the budget). Not objectively, I'll say that this process, coupled with the great food we cook up at our chef-centered restaurants, makes our events pretty dern special. Please consider one of our hotels when thinking of hosting an event. Stop by, call 336-478-9111, or email [email protected] to start collaborating with our talented team. Seasonal packages are available for weddings, meetings and other events; see them and featured weddings at ohenryhotel.com and proximityhotel.com.
Having your event elsewhere (What! Why?) but need accommodations for your out-of-town
guests? Learn about our group rates here or by calling 336-478-9111.
---
Lucky 32: Lunch & Dinner 6 Days
We are finally back to our 2019 hours, except we're closed Mondays. At Lucky's in Greensboro, Chip Holton, QW's Artist-in-Residence for 34 years, has set up a studio on the stage in the bar to start painting the elements of a grand mural that will go from floor to ceiling in the dining room. He is fun to watch and even more fun to chat with. Visit lucky32.com for reservations, tasty updates on features and even a few recipes.
Wow! 2024 Will Soon Be Here!
We have a few package options at Proximity and O.Henry Hotels to help you ring in the New Year with style — and perhaps some romance! Packages available Dec. 29, 2023 – Jan. 2, 2024. Book your getaway at ohenryhotel.com or proximityhotel.com.
Cheers to 2024:
Includes a $50 dining credit, a bottle of bubbly, and some fun victuals, either a charcuterie tray or a romantic sweets plate. BOOK NOW
Ring in the New Year: Cozy up in a king room and toast 2024 with a bottle of sparkling wine. BOOK NOW
2 Nights, 3 Wishes New Year's: Stay over for two nights in an extraordinary bedroom, plus choose three of these special amenities to celebrate the arrival of 2024: $50 dining credit to GVG, PWB or L32; bottle of bubbly or still wine; charcuterie or cheese plate; deluxe adult play kit; deluxe bath kit; stay longer – early check-in and late checkout; or if available, an even nicer bedroom. BOOK NOW