About Us
In 2017, one of the top-rated hotel and restaurant companies in the South, Quaintance-Weaver Restaurants and Hotels (QW) became 100% owned by its staff members. This makes QW one of only a few employee-owned restaurant and hotel companies in the entire country.  Learn more.
We are different!
Our grounding on the idea of being of genuine service to others makes us different from most other companies.
QW is built on the idea that it is a worthwhile objective to be of genuine service to the communities we touch. We believe that if we really get the "rubber to the road" with this worthwhile objective of genuine service, then financial sustainability and an organization-wide sense of accomplishment will be the natural by-products. We are also unusual because QW is owned by its staff members! (Learn more.)
Any well-functioning organization is really just a group of people who choose to join together to pursue a common objective that is clearly communicated. Our common objective is articulated in our mission. This mission is not just our common objective; it is our reason for existing as an organization. It is also our purpose and intention, and it holds the promises that we make to the groups we are honored to serve. In a word, it is our "boss." By choosing to be a member of this team, we all acknowledge its authority. It is our grounding point. Period.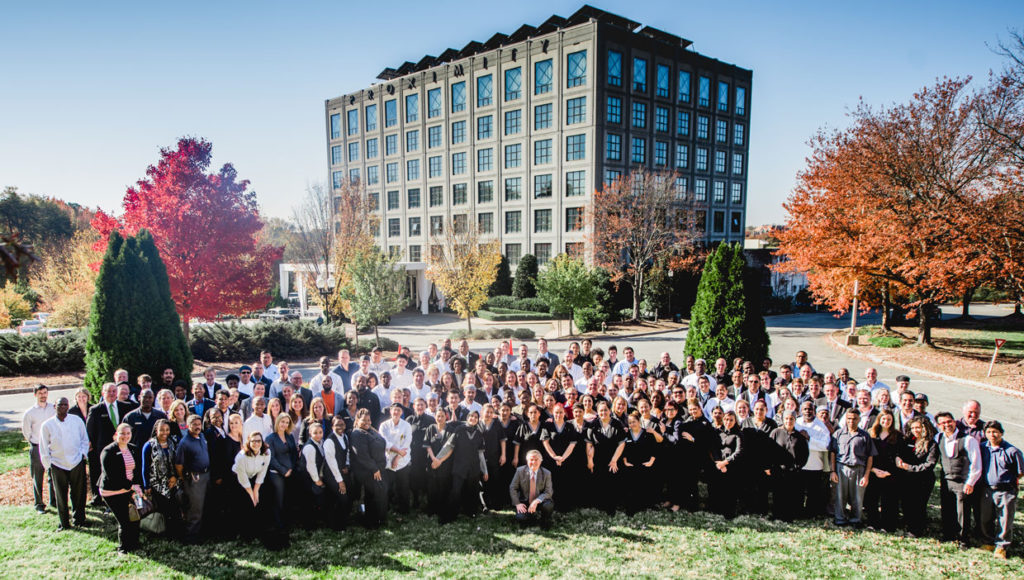 A Brief History
Mike Weaver, Nancy King Quaintance and I formed this company in April of 1988, and we opened our first restaurant in Greensboro on June 5, 1989. We started QW because we are good friends and wanted to be in business together and because we believe that providing the services embodied in our mission will result in a successful company. Mike Weaver is an extraordinary person, a great friend and a mentor. He claims to be retired, but I still see him doing positive things in so many parts of our community.
I started as a housekeeper's assistant when I was 15 at a hotel in Missoula, Montana. From there I worked my way up. I was assistant general manager for "rooms," then food & beverage director of a hotel in Richland, Washington. Next, I went to work with several four- and five-star hotels and restaurants in Florida, Arizona and other places to broaden my experience. I played the role of general manager of a great restaurant for three years and regional manager for a full-service chain for three years. I chose my career focus early and am fortunate to have worked in most every job function in both hotels and restaurants.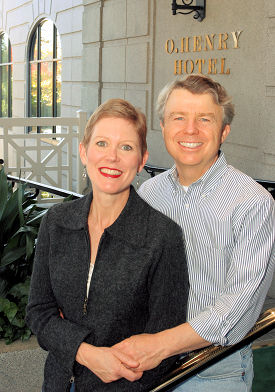 Nancy King Quaintance also started her career at 15, but as a dishwasher with Disney in Florida. She went on to Johnson & Wales in Rhode Island, then to Cornell University, where she studied hospitality and culinary arts. While at Cornell, she served as a culinary teaching assistant. From there, she went to work in sales and front office operations for several hotel companies. For a number of years, she was the regional director of sales and was responsible for feasibility studies for new hotel development for John Q. Hammons Hotels. In 1994 she joined this team full-time. At first, she helped with the culinary team doing everything from recipe development, to expediting, to doing weekly "in studio" cooking segments for a local TV station. Now, she plays roles on our marketing, sales, operations and culinary teams, as well as serves as a coach for some of our key leaders. Email Nancy
In 2016, we transferred the ownership of the QW operating companies to a trust that has the sole purpose of providing retirement benefits for QW staff members. The trust is called an ESOP (Employee Stock Ownership Plan). Having QW owned by this trust aligns the interests of all of us—staff members and owners—in that they are one and the same! Let's work together to take great care of our guests and colleagues so that the by-product of our sincere and competent efforts will be profits that fund this ESOP benefit program.
PBS-North Carolina Interview with Dennis Quaintance
Dennis Quaintance, CEO of Quaintance-Weaver Restaurants & Hotels discusses his growth from a hotel housekeeper to ultimately hotel owner on PBS-NC's Side By Side with Nido Qubein. He shares his thoughts on guest expectations, and why offering a world-class lodging experience matters.
Our Mission
To be of genuine service to our Guests, Fellow Staff Members, Owners (who are solely QW staff members), and the Earth & Her People.
Provide our guests with the highest quality food, drink and accommodations at a good value.
Ensure that each guest receives prompt, friendly, attentive service by a well-trained service staff in a clean, comfortable, well-maintained environment that is warm and hospitable (pleasant acoustics, lighting, temperature and aroma).
Offer an outstanding menu plus an impressive selection of specials in our restaurant's and an outstanding array of gracious amenities in distinctive hotels.
Provide employment that is rewarding and offers education and opportunity in a fair, diverse and inclusive environment.
Generate profits that: a) afford compensation for those who contribute, b) increase the value of staff members' ESOP retirement accounts and c) allow QW to grow.
Consider sustainable practices in our social and physical worlds, with all of our decisions. (See our Sustainable Practices Initiative & Fairness Doctrine.)
Our Fairness Doctrine
Because some groups have not, and are not, always treated fairly, we will proactively reach out to such communities by:
Being extraordinarily committed to our "Fairness" and "Diversity & Inclusion" programs with the objective of being a role model for other organizations.
Focusing much of our underwriting and sponsorship efforts to the Black, Latinx, and Lesbian, Gay, Bisexual, Transgender and Queer and/or Questioning (LGBTQ) communities, plus other such groups.
Working with refugee communities when we have employment opportunities.
Looking for opportunities to employ people with different abilities.
Encouraging a merit-based culture that seeks opportunities for underrepresented communities including African Americans, women, people of color, LGBTQ communities and other such groups.
We are an Equal Opportunity Employer. We do not discriminate based on race, color, ethnicity, gender, gender identity, gender expression, sexual orientation, disability, age, religion, creed, marital status, pregnancy, pregnancy-related conditions, genetic information, national origin/ancestry, citizenship, and military or veteran status.
Quaintance-Weaver Restaurants and Hotels recognized as "Best Places to Work for LGBTQ Equality" Learn more!
Zero Tolerance Policy
Our Zero Tolerance Policy includes all of the following areas:
Bigotry
Discrimination or harassment for any "off-purpose" reason, but with particular emphasis on discrimination based on race, color, ethnicity, gender, gender identity, gender expression, sexual orientation, disability, age, religion, creed, marital status, pregnancy, pregnancy-related conditions, genetic information, national origin/ancestry, citizenship, and military or veteran status. These protections extend to all employment decisions, including recruiting, hiring, learning programs, advancement, compensation, scheduling and discipline actions.
Sexual Harassment
Harassment under this policy includes any inappropriate behavior that makes one uncomfortable as a participant or an observer. Some examples are unnecessary touching, massaging, sexual innuendo, crude jokes about gender-specific traits, and graphic or suggestive comments about an individual's body or dress. These are only a few examples (not all) of things that could be considered sexual harassment.
Theft
We will terminate and pursue prosecution with anyone who chooses to steal.
Use of Alcohol/Drug And Alcohol Policy
QW is a drug-free work place. Therefore, we conduct "post-accident," "for cause" and random drug and alcohol testing. A complete copy of QW's Drug and Alcohol Policy is provided to all staff members upon employment, and is available at www.qwpeople.com.
Reporting Concerns
We have a zero tolerance for bigotry, sexual harassment, theft and substance abuse.
We promise that we will not hold it against you for reporting concerns about bigotry or sexual harassment including if you report something about your supervisor.
Please confidentially report any of the above to our People Department or to Dennis Quaintance. Both can be reached at 336-370-0966.