Dear Neighbors,
We've not written in over two years. It hasn't been because we don't love you, it's that we figured you'd heard enough about all the wild stuff that was dominating our (and everyone's) attention.
We are writing now because we have something terribly important to talk about: Romance.
Romance is on our minds first because it is on our minds most of the time—why else would we make our life's work in romantic restaurants and hotels? It is also on our minds because we've noticed that many of the people staying at the O.Henry or Proximity are couples from nearby who are spending a day or three (most stay for more than one night) at these romantic places. It is our bet that they are there for any number of lovely reasons. We've also noticed that more people are out for weekday date nights in the restaurants. Isn't that nice to hear?
It reminds me of my childhood in Montana, where we noticed that the first things that seemed to emerge after a forest fire were tender wildflowers.
A D&NKQ date night a few years back
Speaking of tenderness… Nancy and I have long realized that some of the most wonderful feelings of spontaneous romance we've experienced have ironically been the product of a careful plan. Those romantic experiences were made more likely because of the context we purposefully created. Since we got married 38 years ago, we've usually taken two honeymoons each year. That's a lot of honeymoons, and they keep getting better! (I'm not just buttering her up.) Most often we stay nearby, but never at our home: the coast, the mountains, or cosmopolitan cities. Sometimes, though, it is Europe, another coast, or somewhere tropical or exotic. We are lucky ducks! We justify some of the expense of our adventures because we allow what we learn while staying in wonderful hotels and dining in iconic restaurants to influence QW's designs, menus, and service.
While planning our honeymoons and other getaways, we collaborate on what sorts of experiences we'd like to create for ourselves and each other.  Maybe a higher energy city experience or a lower energy sort of "check out" environment, where we decide hour-by-hour how we want to create the next hour. We agree on our intention for each honeymoon ahead of time, usually writing a sentence about the energy and context, plus some supporting points that cover what we'd like to experience…and not experience. Then, we shake on it and carefully plan our getaway to match our intention. We also talk about it a lot beforehand to remind ourselves of our intentions and to ensure that what we plan is consistent with them…all the while building sweet anticipation.
After observing that more people than ever are using the Proximity and O.Henry Hotels for romantic getaways and thinking about our own rather methodical approach to "together time," we decided to collaborate with our colleagues to increase the already-high appeal of these hotels as romantic retreats. We've improved the lighting so that most any mood you can imagine can be set. We've also improved the acoustics and connectivity of our stereos. With these controls, you can make the rooms brighter than ever; and when the time is right, you can set a romantic mood by turning just a few knobs to attain umpteen different settings. In addition, all of the bedrooms now have stereos with Bluetooth® connectivity. It is like you are the lighting and sound director at a theater—you create the ambiance you both desire!
We also added some new, exciting romantic package offers (some might even make you blush). Plus, we now have Romance Advisors to chat discreetly about creative ways you can create one-of-a-kind sweet or intimate romance at our places (wink, wink). You can give them a call or send an email to [email protected]. You can also find a new Romance section on our websites at ohenryhotel.com/romance or proximityhotel.com/romance. Read on, and you'll learn more about all of this good stuff and some other news. Just an aside: Writing "we" and "us" seems appropriate because, though I (Dennis) write a good deal of the articles, many contribute.
Good Romance to You!
Cheers!
Romance is near!
A few months back, Nancy and I slipped out of town for one of our honeymoons. As we were stopped at the third cycle of a traffic light on our way home it hit us: We should have stayed closer to home. This was a particularly hard forehead slap, because we'd paid higher prices than in past years at similar places, the traffic wasn't fun, and we were spending time commuting that we could have spent in a context more in keeping with our intentions. I'm not making this up. We just looked at each other and had a bit of a self-deprecating laugh.
We remembered how much we've enjoyed staying at the Proximity and O.Henry—and how we are always surprised that once we get to our room, it doesn't feel like we are "at work" or even "in town." We've learned we can check out by checking in! As we got out of the traffic, we kept talking about it and decided we owed it to our neighbors to offer some hints about how to use QW's nearby hotels and restaurants for romantic getaways. Like us, they might end up having even more fun and might not spend as much! We reasoned that if we, of all people, had neglected to consider these wonderful hotels for our romantic getaway, others might too.
Why make these hotels your base for romantic getaways?
A romantic environment most often seems to be the result of a combination of things that delight our senses and stir our emotions. What (who) we see, the light we see them in, what we hear, and what (who) we touch (careful!) are all part of the experience. And we shan't forget smell and taste, senses that when staying at these hotels can be piqued by simply touching one button on the phone for room service or a different button on the elevator to get to the Green Valley Grill or Print Works Bistro…or maybe a short complimentary London taxi ride to the restaurant at the sister hotel or Lucky 32 Southern Kitchen. We have it set up so that you can delight all of your senses. All you and your special someone need is each other and each other's attention.
Order room service and dine under our new ethereal ceiling murals.
These hotels and restaurants already have a boatload of Romance DNA. Now, with the enhancements we've made to the lighting, music, and a number of other things, it is even more likely that you can set just the right mood. Beyond those improvements, recently we've elevated other details at both hotels. We've done the most work at the O.Henry. There, we completely redid the bathing rooms by expanding the terrazzo-based, quartz-curbed, glass-enclosed shower; raising the cast iron soaking tub; and tiling the walls floor to ceiling with etched mirrors set a half-inch into the tile. They are really something! Each bedroom has new ZenHaven mattresses by Saatva that rest gracefully on an extraordinary piece of furniture: a honeyed pine paneled platform that was made one at a time over the course of a year by our amazing QW Craft Guild colleagues. Talented artists spent about nine months painting ethereal clouds on the bedroom ceilings. We even put stereo speakers in the bathing rooms. We've never found a hotel with that feature. Imagine being in one of the fabulous deep soaking tubs with its QW Craft Guildmade bath caddy, complete with its ever-joyful rubber duck and book stand, listening to your favorite tunes with just the right mood lighting. Oh, back in the bedroom, you can now play content from your phone, tablet, or laptop on the TV.
I digress. I'm excitable. Getting me talking about these places is like asking someone about their kids; you'd better have some time. Again, these are just a few things. Learn about the offerings by clicking on the "Romance" tab on our websites or by calling. And you can learn more about the features and improvements at the hotels by clicking on ohenryhotel.com/features and proximityhotel.com/features on the websites.
This rubber ducky needs some loving attention.
From sweet to savory or spicy (wink, wink), the variety of our packaged and a la carte offerings for romantics was designed to match up with a broad range of your romantic desires.
Sometimes romance isn't spontaneous, it's planned spontaneity like this sweetness in the O.Henry Social Lobby.
A Sampling of our Romance Offerings:
• Spontaneous Romance
• Pleasure and Passion (two nights)
• Endless Honeymoon
• WINK, WINK
• Elegant Escape (O.Henry Hotel)
• Anniversary Package
• Three Wishes Experience
• Sustainable Romance (Proximity Hotel)
• Dress for Dinner Rendezvous
Please see our websites for details and other offerings.
Welcome Back! Offer:
Slip away with your sweetie for some "us" time and receive generous credits for dining or other amenities.
1 NIGHT
*$349
with $100
Dining Credit
2 NIGHTS
*$649
with $200
Dining Credit
3 NIGHTS
*$849
with $300
Dining Credit
*Plus tax. Limited-time offer. Limited availability. Advanced dining reservations required. Blackout dates apply.
Don't leave it to luck, get romantically proactive at Lucky's! This letter has been dominated by our ideas about the hotels and the restaurants adjacent to them. But it would be a mistake if we forgot to remind you of the savory and sweet kindling that the two Lucky 32 Southern Kitchens (Greensboro and Cary) have to offer for starting a romantic fi re! Visit lucky32.com for reservations and menus and to find some of our favorite recipes.
Lucky's in GSO:
Artist-made Tulip Lights Aglow
Recipe for Romance
Our recipe includes the basics, but feel free to sweeten or spice it up to suit your tastes
INGREDIENTS
• 1 dinner reservation for two
(or order room service)
• A dash of flirting
• 2 bathrobes (or fewer)
• 1 soaking tub
• 32 tender kisses
• 3 overflowing cups of affection
• Mood lighting to taste
• Tunes to conjure up sweet emotions
DIRECTIONS
Much as you would preheat the oven, set the mood with our lighting and acoustic controls first. Make the most of the soaking tub and get ready for dinner at a leisurely pace. Take the elevator to dinner (or order room service). Flirt with discreet footsies and loving glances while you dine. Retire to your wonderful bedroom, then (BLEEP – BLEEP) [Oh, no! Our censors bleeped it out!].
For more romance recipes, ideas and tips to plan your memorable getaway, visit our websites at ohenryhotel.com/romance or proximityhotel.com/romance.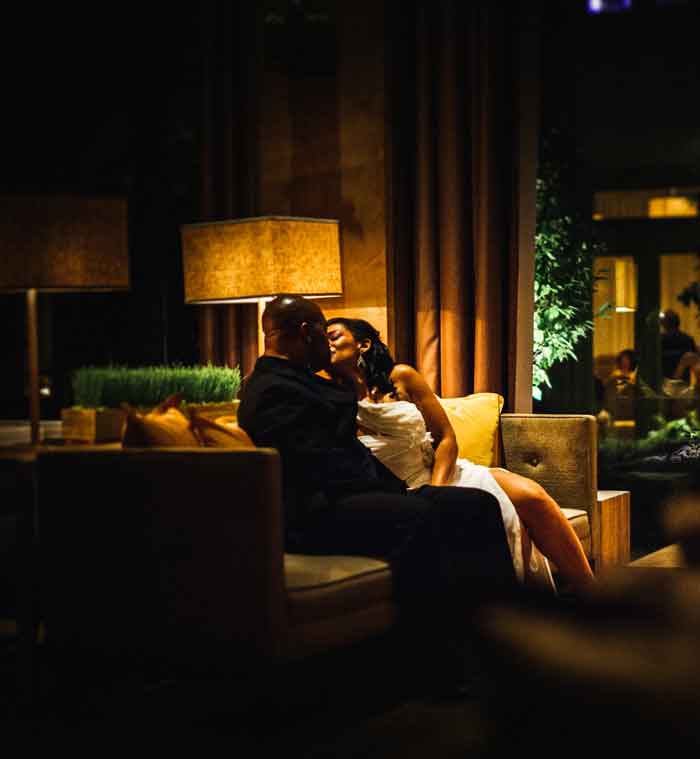 Help! Great People Wanted
More than anything else, our employee-owned restaurants and hotels are about the people who choose to join us in our intention of causing delight for our guests and colleagues. Please consider referring people to us who you think might find joy in the professional dimension of their lives by playing a role with QW.
Current openings (from entry level to senior leadership roles) and applications are available at qwrh.com/careers.
 TM & © 2022 Quaintance-Weaver and affiliated entities